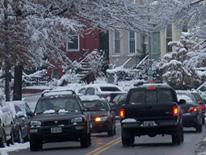 Winter Storm Tips for Pedestrians
Dress properly for the weather, including a hat, scarf, coat, gloves, socks and water-resistant shoes or boots.
Walk slowly and carefully.
When walking at night, wear outer clothing that contrasts with the white snow.
When walking during the day, wear sunglasses to protect your eyes from glare.
Give yourself plenty of time to get where you are going.
Winter Storm Tips for Cyclists
Avoid cycling directly on snow or ice, especially if the temperature is below freezing. Wait for clearing and/or melting
Watch for 'black ice'- a thin, clear sheet of ice that looks like pavement.
After the storm, bike lanes may still be covered in snow, so share the travel lane with cars as necessary.
Check your gears and brakes for ice and dirt.
DPW and DDOT will clear the special bike facilities (such as 15th Street, NW, Pennsylvania Avenue, NW, and the Metropolitan Branch Trail) after the streets have been cleared.
Tips for Motorists
Snow Emergency Route Map [pdf]
Emergency Routes List [pdf]
Take Metro as an alternative to driving.
Drive only if it is absolutely necessary.
If you must drive, drive cautiously and maintain safe speeds and distances from other vehicles.
Keep a safe distance from emergency and snow vehicles and please use caution when attempting to pass a snowplow. Give the drivers plenty of room to safely do their jobs.
Be aware of hazardous road conditions, particularly black ice which can be deceptive in appearance and give the driver a false sense of security on the road.
Keep your gas tank full.
Clear all the snow and ice from your vehicle's hood, roof, windows and lights before driving.
Drive carefully on bridges, ramps and other elevated structures, which can freeze before the roadway.
Have an emergency "go-kit" in your car. Visit hsema.dc.gov to learn how to make your go-kit.
If a snow emergency is declared, DO NOT park your car on Snow Emergency Routes. Vehicles parked on these streets are subject to a $250 fine plus towing and impoundment fees.
Red and white snow emergency route signs generally are posted higher on the pole than the other signs, so look up to the top of the pole to make sure you are parked legally.
Parking is banned on these routes to allow unimpeded curb-to-curb salting or plowing.
The Department of Public Works no longer will relocate vehicles in neighborhoods.
To locate a towed vehicle, please call (202) 541-6083.