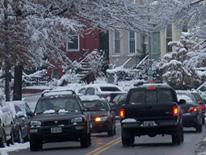 Shoveling Safely
Are you elderly or disabled and need help shoveling? Call 311 (@311DCgov) for help from the Resident Snow Team.
Si usted es una persona de la tercera edad y necesita ayuda removiendo nieve, por favor llame al 311 (@311DCgov).
Clear snow and ice from sidewalks and steps next to your home and/or business. DC law requires residents to remove snow from sidewalks and steps within eight hours of daylight after the snow stops.
Avoid overexertion when shoveling snow. Overexertion can bring on a heart attack—a major cause of death during the winter.
Give yourself a break. Take frequent rest breaks during shoveling so you don't overstress your heart. Pay attention to how your body feels during those breaks.
Don't eat a heavy meal prior or soon after shoveling. Eating a large meal can put an extra load on your heart.
Use a small shovel or consider a snow thrower. The act of lifting heavy snow can raise blood pressure acutely during the lift. It is safer to lift smaller amounts more times, than to lug a few huge shovelfuls of snow. When possible, simply push the snow.
Learn the heart attack warning signs and listen to your body, but remember this: Even if you're not sure it's a heart attack, have it checked out (tell a doctor about your symptoms). Minutes matter! Fast action can save lives — maybe your own. Don't wait more than five minutes to call 9-1-1
Don't drink alcoholic beverages before or immediately after shoveling. Alcohol may increase a person's sensation of warmth and may cause them to underestimate the extra strain their body is under in the cold.
Winter Storm Tips for Pedestrians
Dress properly for the weather, including a hat, scarf, coat, gloves, socks and water-resistant shoes or boots.
Walk slowly and carefully.
When walking at night, wear outer clothing that contrasts with the white snow.
When walking during the day, wear sunglasses to protect your eyes from glare.
Give yourself plenty of time to get where you are going.
Tips to Prevent Cold Related Illness
The best way to prevent hypothermia and frostbite is to stay inside. If you must go outside, here are some tips to stay warm and frostbite-free. Cold Related Illness Prevention [pdf]
Supplies You Should Have Before a Snow Storm:
NOAA Weather Radio or battery-powered or hand-crank radio to receive weather reports and emergency information.
Flashlight and extra batteries.
Extra food and water. High-energy food, such as dried fruit or candy, and food requiring no cooking or refrigeration are best.
Special supplies (such as medications) for seniors, family members with disabilities, infants, young children and pets.
First-aid supplies.
Emergency heating source, such as a fireplace, wood stove, space heater, etc.
At least a three-day supply of water (one gallon per person per day). Store in sealed, unbreakable containers.
A three-to-five-day supply of non-perishable canned food and a non-electric can opener.
Working fire extinguisher and smoke detector.
Change batteries in all your equipment at least once a year. An easy way to remember is to do it when you turn your clocks back in the fall.
Have rock salt to melt ice on walkways.
Snow shovels and other snow removal equipment.
CDC and HSEMA Preparedness Recommendations: