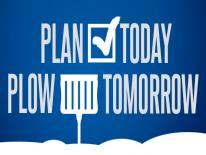 Plan Today
Plan today, for the upcoming snow season. Use these check lists from the Centers for Disease Control and Prevention to prepare your family, home and car for winter weather.
Plow Tomorrow
The DC Snow Team is ready to fight snow and ice by spreading salt and deicer or by plowing when more than 2" of snow have accumulated on the streets. Here's what you can do when the time comes.
Check out the weather forecast for the week to see if severe winter weather is predicted.
Refer to the check lists under "Plan Today" to see make sure your family, home and vehicle(s) are ready for the weather.
Determine when is the best time to pre-treat your sidewalk(s), steps and walkways. If the storm is coming overnight, please apply deicer, salt, non-clumping kitty litter or other abrasive before going to bed.
Property owners are responsible for clearing the sidewalk around their property. Let's make sure our sidewalks are clear so children can walk to school and adults can reach public transportation safely.